Welcome to Chain Link Privacy Slats, your source for information on the best modern chain link privacy slats. Our privacy slats, hedge link inserts, and fence cap will keep your yard safe from prying eyes, all while increasing your home's curb appeal. Best of all, our large variety of privacy slats is always offered at the lowest prices! Click on a style below to learn more about these great slats.
Classic Privacy Slats: The cost-effective solution to more privacy that is easy to install.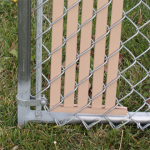 Privacy Hedges: Turn your yard into a green oasis with maintenance-free hedges.