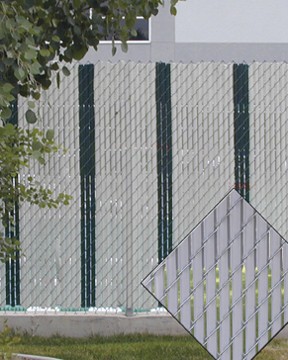 The Feather Lock™ Slat provides an economical and attractive way to enhance any chain link fence. With over 30 years of experience in extruding these innovative products, you can be assured you are investing in the highest standards in quality – from the raw materials used in manufacturing to the finished product in your fence. The Feather Lock design utilizes a self-locking mechanism located near the top of the slats that creates extra privacy at eye level.
Design – Feather Lock™ slats are flat and tubular in shape, with our unique patented 10" self-locking design feature section at the top of the slat that holds it in place without the need for a locking channel.
Standard Heights – 4, 5, 6, 7, 8, 10, and 12 feet. Special heights available upon request.
Slat Length – 1 ½" shorter than over height of fence.
Wind Load and Privacy Factor – Approximately 75%.
Product PDF – FeatherLock
Available Colors









Royal Blue – Light Blue – Redwood – Green – Brown – Beige – Black – Gray – White
HDPE Technical Properties
Melt Index – (.6) A low melt index indicates improved stress and crack resistance.
Density – (.957) Polyethylene ranges anywhere from .914 to .960 in density. A higher density yields maximum stiffness without becoming overly brittle.
Minimum Temperature – (-76° F) Polyethylene stays flexible even at this temperature extreme.
Maximum Temperature – (250°) Polyethylene does not distort until reaching this temperature.
Tensile Strength – (3,700 psi) Material will not suffer distortion at letter loads or impacts.