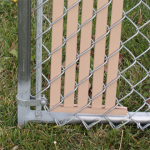 Brief Overview:
The New Bottom-Lock privacy slats provide an affordable way to to immediately increase both the privacy and the appearance of any chain link fence. The New Bottom-Lock privacy slats are available in an array of colors. There is almost near zero maintenance work needed to upkeep the beauty of our slats.
Design:
The new bottom-lock slats are flat in shape and snap into the bottom horizontally on the chain link fence. This gives them extra sturdiness and helps cut back on any potential vandalism.
Maintenance:
To keep clean all that is needed is a pressure wash with plain water.
Availability:
Standard Heights                   4′ – 5′ – 6′ – 7′ – 8′ – 10′ – 12′
Mesh Size                                2″ or 2 1/4″
*Slat Length – 3 1/2″ shorter than overall height of fence.
Available Colors
White – Green – Brown – Black – Beige – Gray – Redwood – Royal Blue – Light Blue