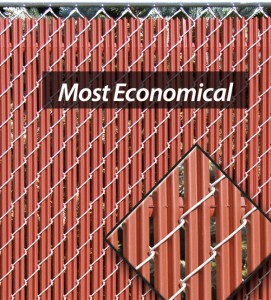 EconoLink® Slats are the most economical single-wall slats for chain link fence on the market today, yet they offer a number of outstanding benefits. These fence slats are easy to install and require very low maintenance.
Design –
EconoLink® slats for chain link fence are compact and lightweight. Their unique shape enables them to self-stack. A package the size of a 2 x 4 contains enough material to cover approximately 10 linear feet, making this product easy to ship and efficient to store.
Standard Heights – 4 ft., 5 ft., 6 ft., 7 ft., 8 ft., 10 ft. and 12 ft, with special heights available upon request.
Slat Length – 3 1/2" shorter than the overall height of the fence.
Wind Load and Privacy Factor – Approximately 75% (based on wire/mesh used-stretch tension)
Installation Instructions
Step 1: Insert the locking strip horizontally into the top section of the second diamond down from the top of the chain link fence.
Step 2: Insert the slats vertically until the patented notch snaps itself into the locking strip.
| | | | | |
| --- | --- | --- | --- | --- |
| Slat Name | Slat Width | Mesh Size | Wire Gauge | Coverage Area |
| EconoLink Slats | 1 1/4" | 2" & 2 1/4" | 9, 11 or 11 1/2 | 10 Linear Feet |
Available Colors
Royal Blue – Light Blue – Redwood – Green – Brown – Beige – Black – Gray – White