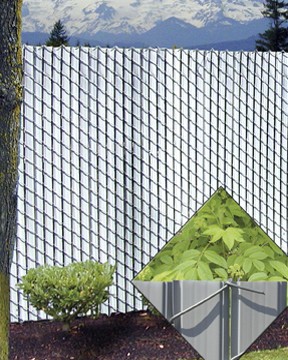 When you need extra privacy for commercial or industrial applications, our FIN2000 is the answer. This uniquely styled slat is mechanically inserted into the chain link wire during the weaving process. Once inserted, the wire is finished above and below the slat (either bow-knuckle or knuckle-over).
Design – Flat tubular plastic that is pre-inserted into wire frame.
Standard Heights – 4, 6, 8, and 10 feet. Special heights available upon request.
Wind Load and Privacy Factor – Approximately 90%.
Installation – Because this slat comes pre-inserted in the chain link fabric, just stretch the wire and tie it up. The result is a fully slatted fence with sight reduction.
Upon Special Request – Available in bags that cover 25 linear feet for hand installation jobs.
Product PDF – Fin2000 Pre-Woven
Available Colors









Royal Blue – Light Blue – Redwood – Green – Brown – Beige – Black – Gray – White
HDPE Technical Properties
Melt Index – (.6) A low melt index indicates improved stress and crack resistance.
Density – (.957) Polyethylene ranges anywhere from .914 to .960 in density. A higher density yields maximum stiffness without becoming overly brittle.
Minimum Temperature – (-76° F) Polyethylene stays flexible even at this temperature extreme.
Maximum Temperature – (250°) Polyethylene does not distort until reaching this temperature.
Tensile Strength – (3,700 psi) Material will not suffer distortion at letter loads or impacts.