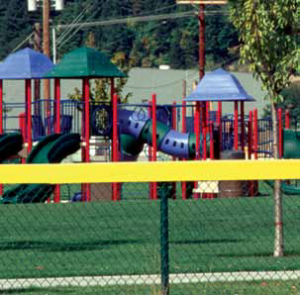 The unique Safety Top Cap™ design provides protection against bodily injury by covering the exposed knuckles or barbs on the top of chain link fences. This fence cap is a great addition to fences surrounding baseball fields and playgrounds.
Design – Durable and flexible plastic in an open tubular shape. The plastic blends with the natural contours of the top of chain link fences.
Multiple Uses – Primarily used in our safety yellow color for baseball outfields. This product is also growing in popularity at athletic fields, parks, playgrounds and recreational facilities throughout the country.
Security – Resist vandalism by using the hog-rings to permanently attach the Safety Top Cap™ to the fence.
Warranty –  25 years prorated.
Colors – Safety Yellow, Red.
Product PDF – Safety Top Cap
Installation – Simply "snap" over the top of the fence and lock to the wire mesh with steel hog-rings (included) through the (3) three pre-drilled holes on each piece.
Cap Height
Cap Width
Cap Length
Contents Per Bag
Coverage Per Bag
5 1/2″
2 3/4″
8′
5 top caps
15 hog-rings
40 linear feet
HDPE Technical Properties
Melt Index – (.6) A low melt index indicates improved stress and crack resistance.
Density – (.957) Polyethylene ranges anywhere from .914 to .960 in density. A higher density yields maximum stiffness without becoming overly brittle.
Minimum Temperature – (-76° F) Polyethylene stays flexible even at this temperature extreme.
Maximum Temperature – (250°) Polyethylene does not distort until reaching this temperature.
Tensile Strength – (3,700 psi) Material will not suffer distortion at letter loads or impacts.