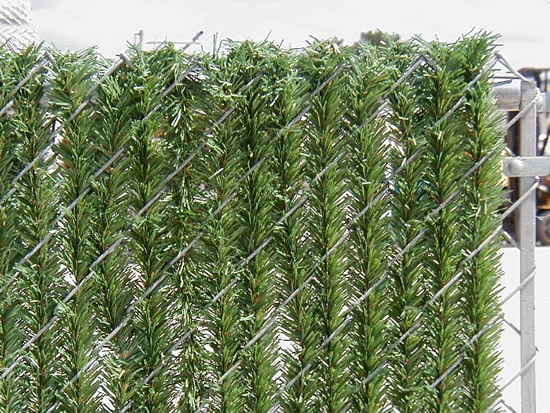 Dura Hedge Slats offers the most privacy of all chain link privacy lattice products and easily installs on most mesh sizes without tools or locking pieces to create a beautiful hedge like effect, on any chain link fence, old or new. Dura Hedge privacy slats will provide years of maintenance free beauty and privacy for your home. The PVC Slats used to make Hedge Slat are U. V. stabilized for protection from the sun's harmful rays. Extended research on these privacy slats has been conducted to ensure its durability in extended outdoor use. Dura Hedge carries a full 10 year warranty against breakage under normal use.
Durable, long lasting construction of flame retardant 4 ply, 6 mil U. V. stabilized PVC for increased privacy and real hedge like density with a center core of stiff twisted 16 gauge galvanized wire for ease of installation, just push down from top.
Dura Hedge Stats are not your regular hedge slats and far from it. Dura Hedge Stats have more than one color PVC in order to maintain a realistic look. Enjoy the privacy and quality of Dura Hedge Stats while protecting your yard.
Available Heights: 4′, 5, 6′, 7′, 8′
| | |
| --- | --- |
| Height | Product Number |
| 4′ | FH4-633 |
| 5′ | FH5-633 |
| 6′ | FH6-633 |
| 7′ | FH7-633 |
| 8′ | FH8-633 |
Benefits:
Resembles natural evergreen look
Vinyl materials
Easy installation
10 Year Warranty
41 pieces per box